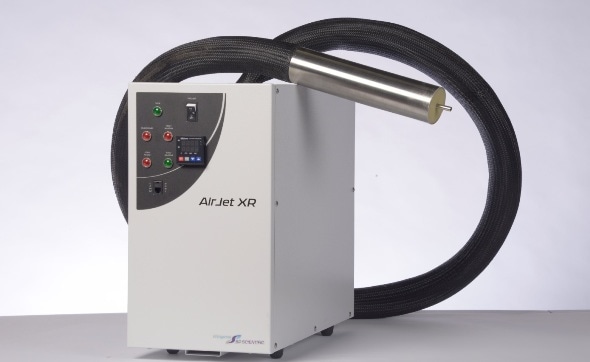 SP Scientific releases new AirJet Cooler (XR Sample), developed to give precision sample temperature control (-90°C to +100°C) for NMR, EPR and X-Ray Diffraction instruments with a mechanically refrigerated, temperature-controlled air stream.
As oppose to the expensive, expendable cryogens like liquid nitrogen or carbon dioxide used to control temperature, the AirJet XR uses house-compressed air to control temperature. When dry air passes through the AirJet XR it is cooled by the mechanical refrigeration system and heat input is accurately regulated to maintain the temperature of the air stream.
This patented design methodology produces outstanding temperature stability for NMR, EPR and XRD instruments of just ± 0.1°C, enhancing the precision and repeatability of experiments. Long non-magnetic delivery lines enable positioning of the AirJet XR refrigeration system remotely from the sample area, a specifically significant consideration for NMR applications.
With its compact design and cheap price, the AirJet XR allows rapid transitions and precise control between -90°C and +100°C, for flows up to 2 SCFM (56 lpm). The flexible air stream delivery line gives easy and accurate nozzle positioning for the experiment.
The AirJet XR can be controlled from a PC and consists of a variety of useful features like, independent over-temperature and low-flow cut out circuits and data logging, all the while being fully compliant with global standards.