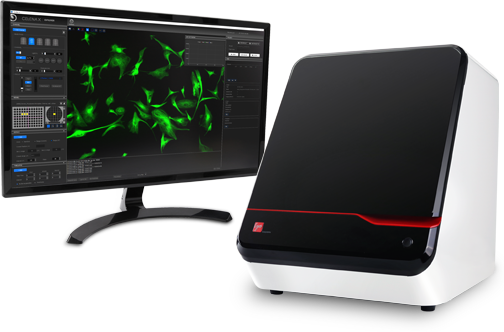 The all new CELENA® X integrated High Content Imaging System was launched by Logos Biosystems, to give a complete solution for rapid high content image acquisition and quantitative analysis.
The new CELENA® X gives powerful digital imaging in four modes, during laser autofocusing and motorized positioning of the XYZ stage ensures fast, reproducible and rich images always. Its capabilities range from the simplest fixed cell assays to complicated, time-lapse live cell assays, perfect for high content analysis. The in-built CELENA® X Explorer user interface makes creating imaging protocols upfront for scientists with limited imaging experience.
"We are excited about introducing the CELENA® X High Content Imaging System to the market. It starts at an affordable price point within the reach of most individual labs' budgets with the option to upgrade for higher levels of performance." said Ana Kim, US Regional Director, Logos Biosystems.
Compatible with Olympus and Zeiss objectives, the CELENA® X, has interchangeable hard-coated LED fluorescence filters and the facility for on-stage incubation, letting accurate physiological and non-physiological conditions for a range of live cell imaging applications.
However, the list of CELENA® X's capabilities doesn't end there, it also comes with an inbuilt Cell Analyzer software that processes the acquired images and data for quantitative analysis, giving statistically robust data for a variety of experimental methodologies. The software can also be customized to create personalized workflows for high content analysis.
The analysis pipelines can be designed and reused to detect cellular or sub-cellular objects, process images for optimal data collection, and make various measurements. Image analysis includes differentiation of multiple phenotypes, determination of the morphology of individual cells and organelles and defining the spatial distribution of targets. Multiple measurements can be made for each cell. This image analysis can be done directly on the CELENA® X or distantly by downloading CELENA® X Cell Analyzer onto a personal computer.
With its flexibility, the CELENA® X, can be used for investigations into cell function, like, apoptosis, autophagy, proliferation, and migration, and studies of cytotoxicity, cell viability and transfection efficiency. It is a valuable tool, with the power to capture and count cellular information in fixed and live cells, which is invaluable in life science research, drug discovery and development. The CELENA® X can also be employed identify cell distribution, image histopathological biopsies, quantify transfection efficiency and assess the cytotoxic effects of drugs.